29th August 2016: With Nick Hawkes, Pete Bolt and Snablet.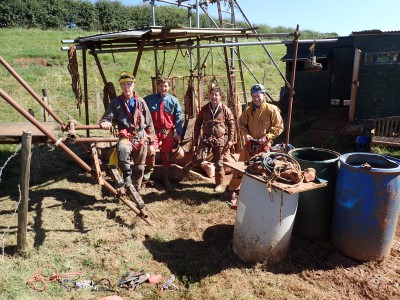 L to R: Pete, Nick, Vince and Snablet almost ready to venture underground.
A great trip ably summed up by Nick in his report below:
"The trip was arranged amidst a birthday drinking session, partly as it was long overdue, but also as a one- off opportunity to get Snablet back into Wigmore during his brief visit 'home' to Mendip from his new abode in New Zealand. Apologies were received from Pete, Claire, Brockers and Duncan all of whom were unable to join in.
A jovial reunion crew of 4, Vince, Pete Bolt, Pete Mcnab (Snablet) and Myself met at 11am(ish) with Tony coming along to the entrance as official gate master. Vince brought the Hilti capping kit and drill which was shared between us for carrying down. Its inaugural run into HCH/Wigmore to prove its worth!
An uneventful trip straight to the Terminal Boulder Choke was interspersed with occasional grunts of appreciation of the 'fine' passages from both Snablet and Pete Bolt.
Once in the choke, debris from the previous 'snapper' set by Chris Jewel and myself several moons back was quickly cleared before unleashing the capping tool. Approximately 6 caps were set off over a period of 30 minutes to one hour or so with rocks being passed back gingerly. With each capping the boulders had a tendancy to shake more than felt comfortable so a tick box list of risk assessment was undertaken by those waiting at the back….The overwhelming conclusion being that there was no better way to spend a sunny bank holiday weekend than sitting underground inside a funnel of large loose muddy boulders with a group of old friends, a couple of crowbars, hammers and small explosive devices….this therefore equated to full mitigation of all risks to irrelevant status.
On reaching this conclusion Vince's head disappeared through boulders in the floor. After a while a message was relayed from the lost head that another opinion was needed as to what to do next. It sounded tight. The way on drops and follows in the stream with a solid roof!….but after ~8m of low wet grovel turned left. A change of water noise levels was noted, as was a fair sized black hole, but a small rock lip prevented progress. After struggling to pass through and temporarily being stuck I extricated myself and tried hammering past. This failed and another Hilti cap was used which successfully opened up the way ahead. Vince's head disappeared again but was soon heard making loud happy yelping noises …..something about a pitch….we all followed and looked in awe down a large open Pitch with a stream tumbling down and a walking passage heading off to the left below . We quickly realised we could free-climb down and that now there were no loose boulders!
"Crap" was the next cry….the adrenalin rush suddenly dashed as the first of us reached the passage at the bottom. It's a sump!
Walking into the brown sump to brush away the foam and find an airspace revealed none, but did establish that the sump is deeper than a person over 1.5m wide and ~3m long. A fossil coral was noted in in the stream gravel.
Excitement over, we had had a good trip, and returned to surface and to the QVic. We think this may be the turnaround of the stream to head now towards Cheddar….if it wasn't for that bloody sump!
Two glimmers of hope remain….a passage high up possibly bypassing the sump or the possibility that it's just a short duck….
Ready for you Claire….."

Snablet, Pete and Nick washing kit after a fine caving and exploration trip!