Driving down the A38 to Burnham on Sea you can't miss the prominent feature of Brent Knoll sitting atop a Lias inlier (c.139m AOD) standing out from the surrounding levels.
The Iron Age hill fort has produced evidence for Roman occupation to the 4th century. Enclosing an area c.1.6 hectares it has an inner bank with a second major bank just down the hillside. The original entrance was to the east, the west and south has been artificially shaped by terracing possibly during the Medieval period.

The interior has been damaged by extensive quarrying for the Lias limestone lowering the interior by at least 2 metres. The outer defences to the north have been used for military purposes in recent times.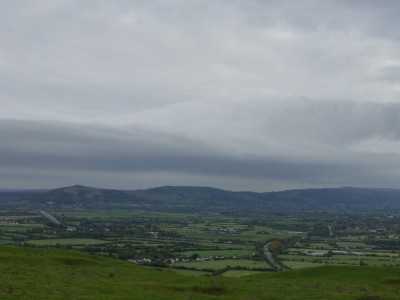 From the top there are extensive views of the Mendip Hills, the Poldens, and across the Severn estuary to Wales and the Somerset Levels. There would also have been views of the now lost River Siger to the south.
Reference: Adkins, L and R. 1992. A Field Guide to Somerset Archaeology. The Dovecote Press Ltd. Wimborne, Dorset.