11th October 2017: Attended a meeting of the Somerset Geology Group (SGG) hosted at the Earth Science Centre, Stoke St. Michael.
The meeting discussed future plans and structure of the SGG followed by an open meeting to outline survey forms and procedure. The talking was followed by a practical field session at Tedbury Camp, a Mendip geo-classic.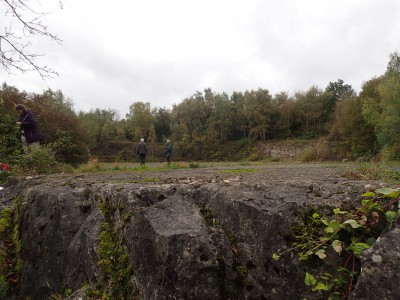 Jurassic Inferior Oolite overlies Mid-Carboniferous Clifton Down Limestone (CDL), Lithostrotion, a colonial coral, is a type fossil to identify CDL. Peter Hardy described the unconformity in some detail, pointing-out some significant features. The holes left by boring bivalves (and other creatures) in the eroded Carb. limestone 'hard ground' surface have been filled by Jurassic sediments, these particular geological features have become difficult to see.
A Neptunian dyke, also filled with Jurassic sediments, there are hard ground surfaces in the Jurassic deposits too.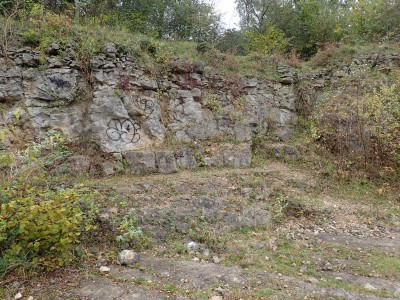 Unfortunately, the exposures are suffering from some unnecessary attention, as at the De La Beche Unconformity nearby.
Other features, such as fault induced folding and chert formation were discussed. The geological importance of Tedbury Camp, not just as a local/regional asset but as a wider national, even international resource was stressed.
We even got around to talk about the survey forms, eventually. An enjoyable field trip.